Autoweek (NL) – 1994-12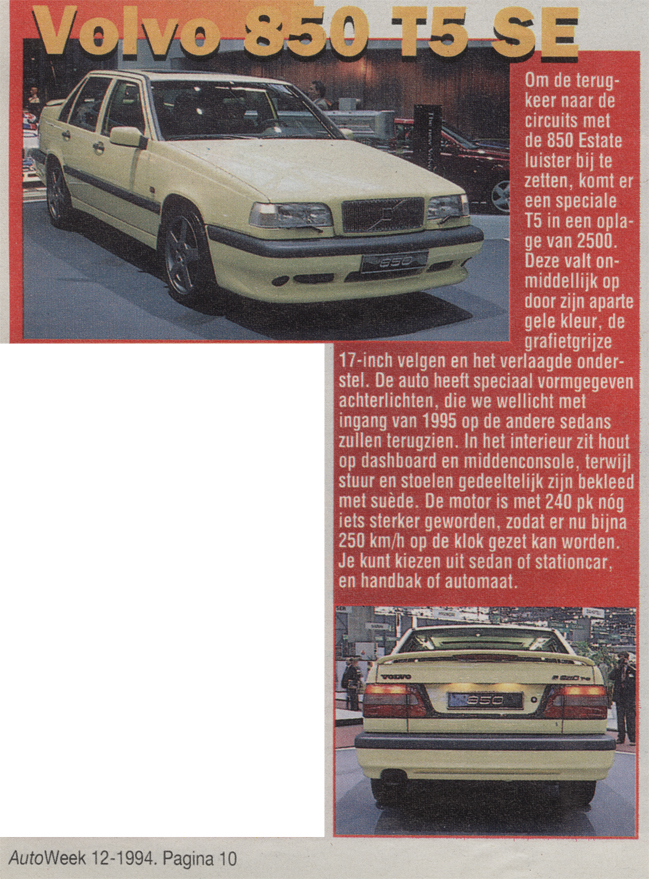 The dutch weekly magazine Autoweek noticed the yellow Volvo in Geneva at the Salon. They wrote about the car:
Volvo 850 T5 SE
To give the return of the 850 Estate to the circuits extra attention there will be a special T5 with a production of 2500 cars. This one directly catches the eye by his special yellow colour, the grafit-grey 17-inch rims and the lowered chassis. The car has special designed rear-lights which we will probably see again on other sedans in 1995. In the interior there is wood on the dash and the centre console, while steering wheel and seats contain suede parts. The engine with 240 Bhp has become slightly more powerful; the car will top 250 km/h. One can choose from sedan or estate and manual- or automatic gearbox.
(Autoweek (NL) #12 1994, March 18h-25th – Salon Geneva)