PDY 444 is the license of a Swedish car. It belongs to a certain car and the license remained with it during the years.
Actualy it's a very special car. We may call it a T-5R, though it is a T-5.
In the early years of the birth of the T-5R concept Volvo used a couple of cars as a try out for several purposes. It is said that two or three T-5's were taken from the production line to undergo a special treatment. The cars were sprayed in cream yellow and got (almost) the full T-5R trim.
One of those cars was used for the introduction in Geneva early 1994. We are almost sure that this car is currently on the pedestal in the Gothenburg museum.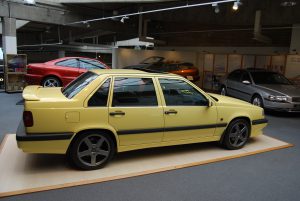 Another car got the license PDY 444 and was used as a photomodel for several publications. You can see the car at the first brochures/folders for the T-5R and acted in the introduction movie.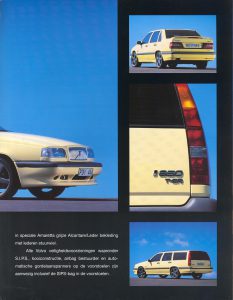 After the introduction, when the first real T-5R's were produced and shortly after that were sold, the PDY 444 disapeared in the Volvo factory warehouse. The car remained property of Volvo.


The T-5R was produced during the second half of 1994 and the last, green one, left the factory sometime in 1995. During that production period Volvo was working on a successor of the very popular T-5R. For Modelyear 1996 (and 1997) the 850R was planned. This time not a limited serie. And in a couple of more colours than the three colours of the T-5R.
To launch the 850R Volvo needed a model with a fresh layer of paint (red paint this time) and the unique trim for the 850R. Most characteristic here was the 7 spoke rim, Volans.
Volvo rolled the PDY 444 out of the warehouse and used that car again to act as a 850R. The car appears on press photo's and also stood model for the big blue brochure.
The 850R didn't get an introduction at a carshow like the T-5R. The 850R was introduced in France at the circuit Paul Ricard. There are not many photo's of this event.
For the international journalist Volvo could use a new highway which wasn't yet opened for the public. It is said that during that introduction the first 850R was wrecked by a Japanese journalist.
After the introduction and the photo's of the R the PDY 444 disapeared in the wharehouse again. And for the remaining years there wasn't a need for the car again.
Sometime after 1996 the PDY 444 was sold from the company stock to a former Volvo employee. With the restriction that the new owner had to repaint the car. The PDY444 became an orange T-5 again.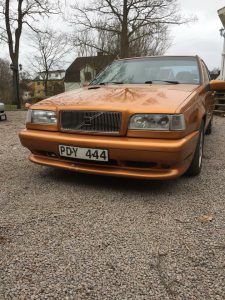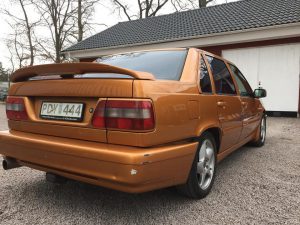 Until… somewhere in 2014/2015 when Ulf Thoren from Sweden bought the car. Ulf was familiar with the history of the car and followed it during the years.
After aquiring the car soon the plan was made the give the PDY 444 its original role again. Being a cream yellow T-5R sedan. But one with an incredible and very interesting history.
During the turn-over from orange to yellow, it was clear that it has been a three colour car: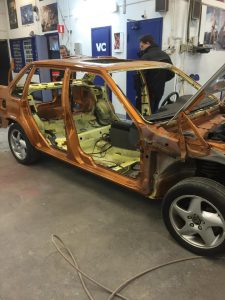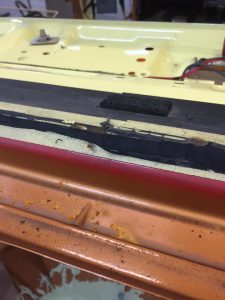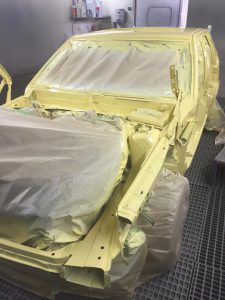 And now it's one of the most exciting T-5R's that pops up occasionaly on a car show in Sweden. At VROM 2016: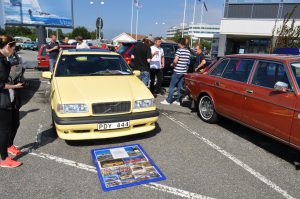 Link to an article on a Norwegian motorsportmagazine website about the PDY444